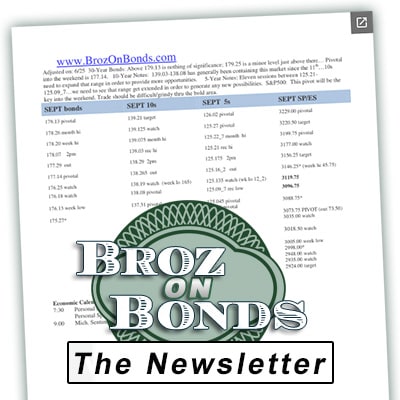 The letter is USUALLY posted on the website by 5:00pm CT and is intended for use in both the overnight and the next day's floor session.
The newsletter has 2 main parts: the "comment" section and the levels.
Note that in the "comment" section there are trades/ideas for all 4 markets covered: 30-year bonds, 10YR and 5YR notes, and SP500 (ES). The trades discussed in the comment are not necessarily expected to play out in the sessions the letter is provided for – but by their nature they provide a "bigger picture" view of the market. These trades/ideas should also be "flipped" in the minds-eye of traders who like to fade (go against the prevailing trend). For example, a comment such as "trade above 118.18 goes after 119.02" alerts the fader that with any sell entry above 118.18, the risk is to 119.02.
A comment such as this: "until the bulls start to work on the 138.11 it's hard to get too excited about the upside (and the eventual test 140.27) As for the downside, I'd like to see the bears take out 136.20" – is an alert that as long as trade stays between 138.11 and 136.20 we need to be in more of a scalping mode; that is, entering trades and taking quick profits…this comment is meant to inform that there is not enough strength or weakness between those prices to begin a trend.
• The PIVOT sets my bias; bullish above it and bearish below it. Majors are the strongest levels; always consider placing resting orders at majors. Traders who trade size can trade maximum positions at majors.
• *s are strong levels; I consider them as fade-able …the best way to explain an *s is using a size-trader for an example: a trader comfortable with 15-lots at majors can park an * with 7-8.
• Levels on the letter without ANY description (major, pivotal, * etc) are the weakest levels… therefore an * is somewhere between those and a major – and these non-designated levels should be traded very carefully.
• Pivotals are targets and then become the key to the next direction…I always advise covering positions at pivotals and then standing aside to see which camp (bulls/bears) controls it. (Pivotals should be choppy due to this "fight for control"). TRUE PIVOTS also take on this characteristic; a sm (small) PIVOT attracts MOST players – but not all – but the "sm" should keep traders aware of the possibility of a chop. As stated above, I often use the comment section to give my thoughts on pivotals. Finally, because we expect these types of levels to attract both longs and shorts who will fight for control, if one side loses decisively (or doesn't even show up) it really helps us to "KNOW" the market's direction.
• Cash yields will – in certain markets – become important. They are generally "pivotals".
• "watch" is a level that I know is important – but I am not sure how it will play out…when prices near a "watch" level, traders should begin to take profits on positions and tighten stops. "watch" levels can be fairly close to pivotals in my jargon.
• Targets are just that – but unless they are also designated with an *, major etc they do not provide any resistance or support.